Bryce Canyon provokes all kinds of questions from all ages.
Why aren't there other places like Bryce?
How did all of these rocks come to look so weird?
What happens when hoodoos get struck by lightning?
Capitalizing on the diverse outdoor classroom we work and live in, the staff of Bryce Canyon offers several avenues of assistance to educators of geology and biology. The Bryce Canyon National Park Education/Outreach Program has several components from which educators and students can obtain information and participate in fun, science-based activities. BCNHA offers interpretive and engaging education programs for Kindergarten through Twelfth Grade students.
First is the student education component in which there are two areas of participation, one being a field trip to the park and the other being a classroom visit from the Education Specialist.
Field Trip Information
The field trip consists of a stop at our visitor center to see our award- winning film about the park, and to walk through the exhibits. Afterwards, the students participate in a series of activity stations in which the geology, plants, wildlife and endangered species of the park are taught. Following a lunch break, students are led on a 1 hour hike through the fantastic formations of Bryce Canyon. This format can be flexible to meet school
schedules.
Classroom Core Curriculum Programs
Classroom visits are conducted by our Utah State certified Education Specialist and a park ranger presenting programs that incorporate national and state core curriculum standards for grades 1 through 6 and core-related earth science programs for grades 7 through 12. All presentations include lecture and discovery-based activities.
Nonverbal Information Packets
Second is the nonverbal information packet, a resource available to educators, home-schoolers and students. This packet provides material useful for bulletin boards, teacher files and school reports, and is available online at www.nps.gov/brca. It includes the park newspaper, a map and guide, the geology of Bryce Canyon, checklists of the local birds, plants and mammals, a cultural history publication and a postcard.
Please send your inquiries to:
BCNHA also sponsors the Junior Ranger Program.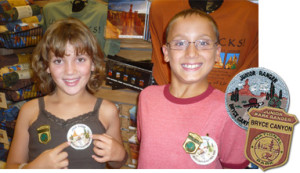 When you arrive, come to the Visitor Center to find out how to become a Junior Ranger. Kids who are 5 years and older can become Junior Rangers.
"Explore, Learn, and Protect!" The Junior Ranger motto is recited by children around the country; each taking an oath of their own to protect parks, continue to learn about parks, and share their own ranger story with friends and family.
Junior Ranger badges are awarded to children who visit the park and attend a ranger-led program along with correctly completing at least 5 of the activities in our Junior Ranger booklet. Booklets are available from the park visitor center. When children are finished with the booklet, they can take it to the visitor center to have a ranger check their answers and to receive their badge.
NPS Junior Ranger program is an activity based program conducted in almost all parks, and some Junior Ranger programs are national. Many national parks offer young visitors the opportunity to join the National Park Service "family" as Junior Rangers. Interested youth complete a series of activities during a park visit, share their answers with a park ranger, and receive an official Junior Ranger patch and Junior Ranger certificate. Junior Rangers are typically between the ages of 5 to 13, although people of all ages can participate.
Stop at the Bryce Canyon Visitor Center and become a Junior Ranger Today…