The park is open 24 hours per day throughout the year.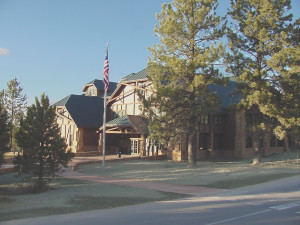 Facilities
Visitor Center
Operating Hours
Summer 8 am – 8 pm (May – September)
Fall (October) 8:00 am – 6:00 pm
Winter (November – March) 8:00 am – 4:30 pm
Spring (April) 8:00 am – 6:00 pm
Phone
435/834-5322
Location
4.5 miles south of the intersection of Hwy. 12 & Hwy. 63 OR 1.5 miles inside Bryce Canyon National Park's northern boundary.
Closures
Thanksgiving Day, Christmas Day and New Year's Day (Visitor Center and Fee Booths Only)
Special Programs
Short informational Video shown on the 1/2 hour and on the hour. Short Geology talks (usually held at Sunset Point) are held in the Visitor Center Museum during bad weather.
Exhibits
Stay tuned for our new museum. We plan to have our grand opening January 2016!
Available Facilities
Restrooms, Bookstore, and a Ranger/VIP staffed Information Desk. Obtain Backcountry Permits at this desk.
Reminder
Daylight Savings Time begins the second Sunday in March and ends the first Sunday in November. Bryce Canyon is in the Mountain Time Zone.