DAY HIKES IN BRYCE AMPHITHEATER:
Bryce Canyon offers several day-hiking trails. Because many of these are interconnected, our most popular hikes are combinations of two or more of these basic trails. The hiking trails are divided into three categories of difficulty: Easy, Moderate, and Strenuous.
Keep in mind that all trails below the rim involve steep climbs out of the canyon. Here are a few more hiking reminders;
Wear hiking boots with good "lug" traction and ankle support.
Carry plenty of water; 1 quart (liter) per 2-3 hours of hiking for each person
Park elevations reach over 9,000 feet (2774 meters). Even mild exertion may leave you feeling light-headed and nauseated.
Some trails are also shared by horses/mules April to October. Hikers must yield to horses/mules. Hiking clockwise reduces your chances of encountering horses/mules.
Stay on maintained trails. DO NOT use "social" trails.
Be respectful of others; keep noise levels down - no yelling.
Do not feed wildlife.
Remember, ultimately, you are responsible for your own safety.
In winter, Crampons and ski poles are advised for extra grip and support.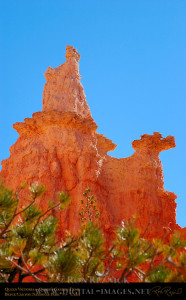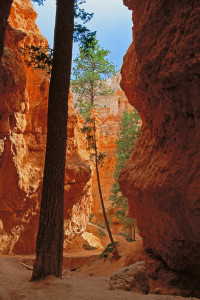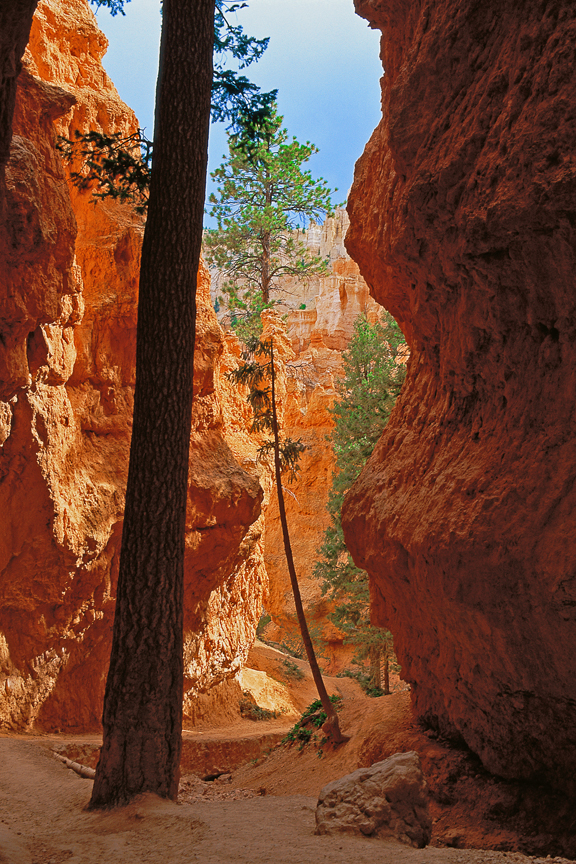 Wall Street, Navajo Loop Trail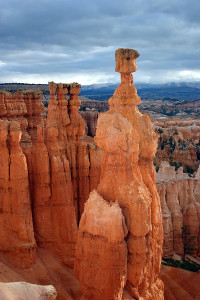 EASY
These hikes are classified as easy. They have gentle grades and minimal elevations changes. They include:
Mossy Cave (.8 mi / 1.3 km round trip)
Streamside walk up to a mossy overhang and small waterfall. (Waterfall flows May to October)
Rim Trail (11 mi / 17.7 km round trip) & Sunset Point to Sunrise Point Trail (1 mi / 1.6 km round trip)
Observe the amphitheater and it's hoodoos along the rim and if planned right, visit all four main view points. Sunset Point to Sunrise Point Rim Trail is paved and fairly level.
Bristlecone Loop (1.0 mi / 1.6 km round trip)
Hike through spruce-fir forests to cliffs with bristlecone pines and expansive vistas.
Queens Garden (1.8 mi / 2.9 km round trip)
This is the least difficult trail into the canyon. Using your imagination you may even see Queen Victoria at the end of a short spur trail.
MODERATE
Moderate Hikes have steep grades with "down and back" elevation changes, and include the following trails:
Navajo Trail (1.3 mi / 2.2 km round trip) The Navajo Loop begins at Sunset Point and goes down into Bryce Amphitheater through a "slot" canyon where large Douglas Fir trees are stretching to reach sunlight high above.
Tower Bridge (3 mi / 4.8 km round trip) See Bristlecone pines and the China Wall. A shady 1/4-mile spur trail leads to the bridge.
Hat Shop (4 mi / 6.4 km round trip) Descend to the Under-the-Rim Trail to see a cluster of balanced-rock hoodoos.
Swamp Canyon (4.3 mi / 7.2 km round trip) Descend into one of the lesser-known areas of Bryce Canyon.
STRENUOUS
Strenuous hikes are those consisting of steep grades with multiple elevation changes and long distances. These hikes can challenge the most avid hikers and is not recommended for the faint of heart.
Combining some of these hikes can also add to the adventure of a more experienced hiker, such as the Navajo and Peek-A-Boo or Navajo, Queens Garden and Peek-A-Boo.
The Peek-A-Boo Loop Trail shares the trail with horse/mule rides and hikers are advised to give the right-of-way to these animals.
Carry plenty of water;1 quart/liter per person, per 2-3 hours of hiking.
Fairyland Loop (8 mi/12.9 km round trip) See the China Wall, Tower Bridge and tall hoodoos on this less-crowded trail.
Peek-A-Boo Loop (5.5 mi/8.8 km round trip) Steep but spectacular hike through the heart of Bryce Amphitheater. See the Wall of Windows. (This trail is shared by the trail ride concession).
Riggs Spring Loop (8.5 miles/14.2 km round trip) High elevation hike leaving from Rainbow point down through varied forests of Spruce, Fir and Bristlecone.